SOFTWARE FOR SCALES
AND INDICATORS AWO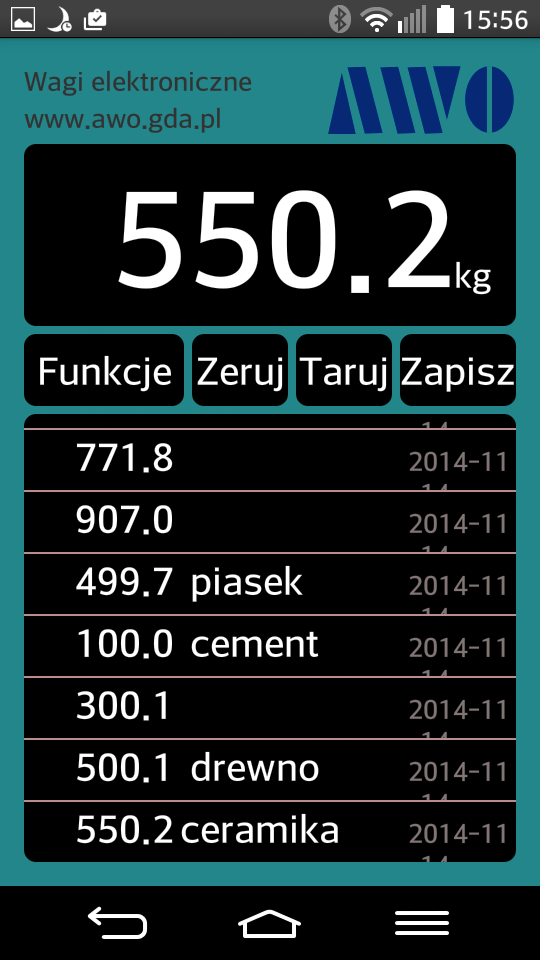 NOVELTY: The program for tablet/Android


Program tablet is a simplified version for archiving measurements adapted for use with portable devices equipped with the Android operating system.

The program is used to display and archiving of mass measurements of the electronic scales and print label.

The program connects to the weight (or other electronic device) wirelessly via Wi-Fi interface (TCP / IP) in the following way:


program communicates directly with a measuring device (scales equipped with Wi-Fi)
program communicates with a converter which converts the signal RS232 / 485 (derived from the measuring device) for Wi-Fi


It is possible to modify program, including the adaptation of software to support any scales, indicator, and any other device.


We offer the software according to customer requirements.
Name
Description
Desk
Price
Communication computer
software AWO-PK
Recording the results of weighings.
0,-PLN
KEEPING RECORDS FROM WEIGHING AND LABEL PRINTING
The archive
computer software
AWO-PA
Archiving results of weighings, complemented by: WZ number, the time and date, type of goods, the operator and the buyer.
300,-PLN + VAT
The archive
computer software AWO-PAO
A simplified version of the computer software to record weighing on a vehicle scale axial (based on archiving computer software AWO-PA)
450,-PLN + VAT
Program for printing labels
AWO-PE
The program reads the results of weighing and prints labels of your own design; also adapted for touch screens; basic service with two push buttons; grouping products and giving them colors, counting, print preview, login.
850,-PLN + VAT
DOSAGE
Dosing computer software AWO-PD
Visualization, archiving and control the process of dosing from your PC
750,-PLN + VAT
Dosing computer software AWO-BET
Visualization, archiving and control the process of dosing at the same time for four measures dosing, zadawanie nastaw i receptur z komputera PC, podział na cykle, generate reports
telephone contact
WEIGHT FOR CAR
Trucking computer software
AWO-PS
Support weighing trucks (weighing single and double), contractors with vehicles, base materials with price list (netto/brutto), support magazine work, configuring print documents by weight, generate reports
950,-PLN + VAT
Software for vehicle scales axial AWO-PSO
The program for the vehicle scales AWO-PS adapted for for weighing vehicles on the weight axial
1150,-PLN + VAT
OTHER PROGRAMS
Control of pre-packaged goods AWO-KTP
Control of pre-packaged goods in accordance with the notice the President of the Central Office of Measures
1500,-PLN + VAT
The computer software to communicate with the event recorder AWO-RJ
Configuration and read data from the event recorder
400,-PLN + VAT
Programs on request
On request, we can create any programs, and we make changes in existing programs, adapting them to individual needs. We have a ready-made modules, which make the changes to be made in the program is fast and cheap
telephone contact
Name
Description
Price
Communication computer software
AWO-PK
Recording the results of weighings.
0,-PLN
KEEPING RECORDS FROM WEIGHING AND LABEL PRINTING
The archive
computer software
AWO-PA
Archiving results of weighings, complemented by: WZ number, the time and date, type of goods, the operator and the buyer.
300,-PLN + VAT
The archive computer software AWO-PAO
A simplified version of the computer software to record weighing on a vehicle scale axial (based on archiving computer software AWO-PA)
450,-PLN + VAT
Program for printing labels
AWO-PE
The program reads the results of weighing and prints labels of your own design; also adapted for touch screens; basic service with two push buttons; grouping products and giving them colors, counting, print preview, login.
850,-PLN + VAT
DOSAGE
Dosing computer software AWO-PD
Visualization, archiving and control the process of dosing from your PC
750,-PLN + VAT
Dosing computer software AWO-BET
Visualization, archiving and control the process of dosing at the same time for four measures dosing, zadawanie nastaw i receptur z komputera PC, podział na cykle, generate reports
telephone contact
WEIGHT FOR CAR
Trucking computer software
AWO-PS
Support weighing trucks(weighing single and double), contractors with vehicles, base materials with price list (netto/brutto), support magazine work, configuring print documents by weight, generate reports
950,-PLN + VAT
Software for vehicle scales axial AWO-PSO
The program for the vehicle scales AWO-PS adapted for for weighing vehicles on the weight axial
1150,-PLN + VAT
OTHER PROGRAMS
Control of pre-packaged goods AWO-KTP
Control of pre-packaged goods in accordance with the notice the President of the Central Office of Measures
1500, -PLN + VAT
The computer software to communicate with the event recorder AWO-RJ
Configuration and read data from the event recorder
400,-PLN + VAT
Programs on request
On request, we can create any programs, and we make changes in existing programs, adapting them to individual needs. We have a ready-made modules, which make the changes to be made in the program is fast and cheap
telephone contact