Crane scales
Crane scales have a certificate of conformity no. PL 05012 issued by Central Office of Measures in class III and can be used for the trade.


We are offering new, lower prices of certificated crane scales!
The new design of the AWO crane scales allow to work both indoor or outdoor. The crane scales are supplied with two batteries LR20 or rechargeable batteries of the same size. The crane scales have big, backlit, readable from long distance LCD display. You can see the results of measurements on a remote control unit P100R. The remote control has memory for 2000 measurements, real-time clock and RS232 or USB interface. You can use this interface to connect PC or printer. We offer cordless, shining LED display (10cm digit height) also.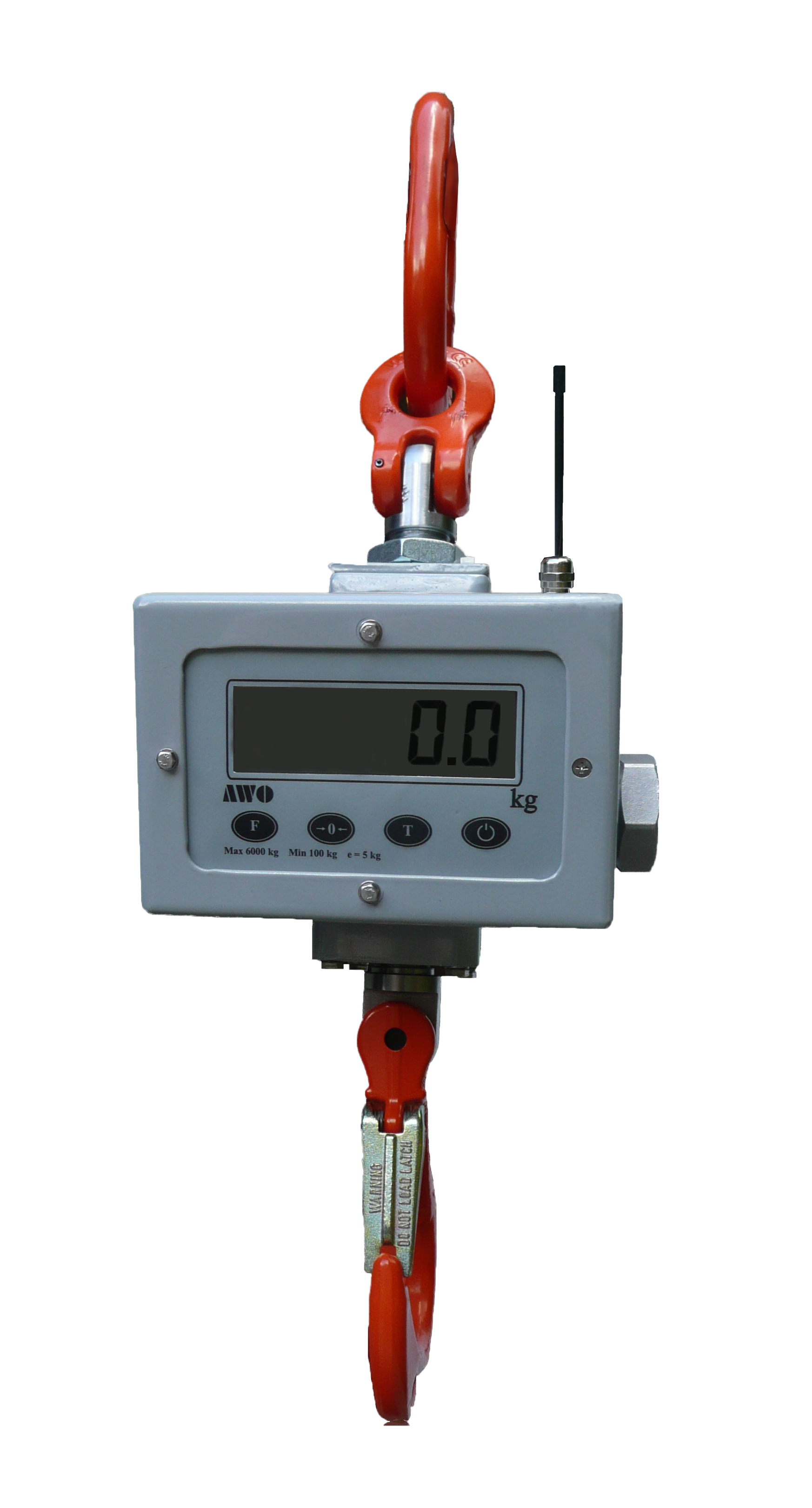 CRANE SCALES COOPERATING WITH TWO REMOTE CONTROLS
AWO crane scales can cooperating with many remote controls P100R. One of useful configuration is that they can work with two remote controls. The operator is holding one P100R, the second P100R is connected with computer or printer. Computer or printer may be outside the hall but within radio range. When the operator presses button M the result of measurement will be saved and this information will be sent to the second remote control. It allows you to store result of measurement in PC or printer.
CRANE SCALES WORKING ON CROSSBEAM
Two crane scales can work together. One of them is the main crane scales. This main crane scales displays the result of measurement coming from both. The result is sum of both measurements. The distance between this crane scales can be greater than 100 meters. The result we can read from P100R or AWO510E. If the remote control P100R is connected to PC the result will be sent to PC.
Type
Load
Accuracy[e]
Size[mm]
Weight
Digit
View
AWO 0.5H (*)
50kg
0,05kg
210x305x90
4,9kg
25mm
AWO 0.6H (*)
60kg
0,02kg
210x305x90
4,9kg
25mm
AWO 1H (*)
100kg
0,1kg
210x305x90
5,1kg
25mm
AWO 1.5H (*)
150kg
0,05kg
210x305x90
5,1kg
25mm
AWO 2H (*)
200kg
0,2kg
210x305x90
5,1kg
25mm
AWO 3H
300kg
0,1kg
210x480x190
7,5kg
25mm
AWO 5H
500kg
0,5kg
210x480x190
7,5kg
25mm
AWO 6H
600kg
0,2kg
210x480x190
7,5kg
25mm
AWO 10H1
1 000kg
1kg
210x480x190
7,5kg
25mm
AWO 10H
1 000kg
0,5kg
210x480x190
7,5kg
25mm
AWO 15H
1 500kg
0,5kg
210x480x190
7,8kg
25mm
AWO 20H1
2 000kg
2kg
210x480x190
7,8kg
25mm
AWO 20H
2 000kg
1kg
210x480x190
7,8kg
25mm
AWO 30H
3 000kg
1kg
210x670x250
14,6kg
25mm
AWO 50H1
5 000kg
5kg
210x670x250
14,6kg
25mm
AWO 50H
5 000kg
2kg
210x670x250
14,6kg
25mm
AWO 60H1
6 000kg
5kg
210x670x250
14,6kg
25mm
AWO 60H
6 000kg
2kg
210x670x250
14,6kg
25mm
AWO 100H1
10 000kg
10kg
310x750x350
31kg
50mm
AWO 100H
10 000kg
5kg
310x750x350
31kg
50mm
AWO 150H1
15 000kg
10kg
310x850x350
35kg
50mm
AWO 150H
15 000kg
5kg
310x850x350
35kg
50mm
AWO 200H1
20 000kg
20kg
310x900x350
62kg
50mm
AWO 200H
20 000kg
10kg
310x900x350
62kg
50mm
AWO 250H1
25 000kg
20kg
310x990x350
72kg
50mm
AWO 300H1
30 000kg
20kg
310x990x350
72kg
50mm
(*)- the crane scales have not remote control
Type
Load
View
AWO 0.5H (*)
50kg
AWO 0.6H (*)
60kg
AWO 1H (*)
100kg
AWO 1.5H (*)
150kg
AWO 2H (*)
200kg
AWO 3H
300kg
AWO 5H
500kg
AWO 6H
600kg
AWO 10H1
1 000kg
AWO 10H
1 000kg
AWO 15H
1 500kg
AWO 20H1
2 000kg
AWO 20H
2 000kg
AWO 30H
3 000kg
AWO 50H1
5 000kg
AWO 50H
5 000kg
AWO 60H1
6 000kg
AWO 60H
6 000kg
AWO 100H1
10 000kg
AWO 100H
10 000kg
AWO 150H1
15 000kg
AWO 150H
15 000kg
AWO 200H1
20 000kg
AWO 200H
20 000kg
AWO 250H1
25 000kg
AWO 300H1
30 000kg
(*)- the crane scales have not remote control
crane scale
wireless remote control P100R
clavis master set and sling hook
set of batteries
scale certified
user manual with a warranty
full tare range
auto-zero function
summing function
counting pieces
netto/brutto switch
peak function
programme tare value
measuring unite selection
digital filter selection
digital filter selection
remote control P100R with real-time clock, memory and RS232 interface
power supply by 2x1,5V (2xR20) batteries
minimal power consumption ( up to 200 work hours)
working temperature -10°C to +40°C
protection IP65 (does not deal with crane scales of less than 300kg load)